Play it safe with Telekom Security
We live and work in a connected world. With an expected global population of about eight billion people in 2025, experts estimate that there will be around 75 billion connected devices. IT applications are hosted in the cloud and machines communicate with each other autonomously. Corporate or government applications have reached customers' and citizens' smartphones. The internet and mobile communications play an increasingly central role in society and the economy. Artificial intelligence is gaining more and more importance.
A digitally connected world offers flexibility and communication, new business models and increased efficiency. But it also leaves infrastructure more open to attack and creates increased risk for companies and the public sector. Whilst attempted cyberattacks are inevitable, it is possible to optimize defenses against them – tapping expert knowledge to minimize their effect as completely as possible by implementing the right services, organizational measures and architectural decisions.
The threats are complex and globally intertwined. That is why individuals can no longer combat them without the support of professional cybersecurity providers, who orchestrate defenses against attack modes that are constantly evolving and who can take swift action when needed.
As a leading telco provider, Deutsche Telekom has shaped the networking of our society for over 20 years – and knows that universal connectivity requires equally comprehensive security measures. The most effective weapon against cyberattacks is not even technology itself – but the people who work for Telekom. Their expertise about vital security architecture, its configuration and customization for customer infrastructure is what counts most. Boosting and sharing this know-how is a top priority for Telekom. In this way, it can offer future-oriented security in a connected world.
Therefore, Telekom Security was founded as a business unit within T-Systems in early 2017 – and transformed into a separate legal entity within DTAG group on July 1, 2020 (Deutsche Telekom Security GmbH or Telekom Security for short). With over 250 million euros of revenue, Telekom Security is the market leader in Germany and one of Europe's top cybersecurity providers.
Telekom Security addresses its customers holistically in accordance with a governance, risk & compliance approach. Its comprehensive solutions for networks, cloud services and end-customer applications give data privacy and compliance the attention they need.
Telekom Security cooperates closely with leading producers of security technology as well as innovative start-ups. Based on concrete customer demands, Telekom Security also influences further development of its partners' products – along the entire life cycle from threat identification and protection, detection & response to recovery.
We feature differentiated solutions in combination with our Managed Services – offering customers the same highly professional services and technologies that we ourselves use to protect Deutsche Telekom worldwide. We know just how crucial security is: For example, on a single day in April 2020, we registered 48 million attacks on Deutsche Telekom's IT infrastructure. In the same month, 5.3 trillion botnet packages were detected in the backbone of our landline and mobile networks.
The information we collect about the respective attack vectors is stored in a database – the Telekom Threat Library, which contains many millions of entries about malware, APT attacks and zero-day exploits, and is continuously expanded to include new attack patterns. Our self-learning platform converts these patterns into indicators. All our customers automatically profit from the protection that results from this activity.
In the course of security tests, the latest attack methods are applied and further developed. The goal is to achieve a high measure of robustness in the tested systems. This ensures the demanding level of quality we need in order to protect our own critical IT infrastructure.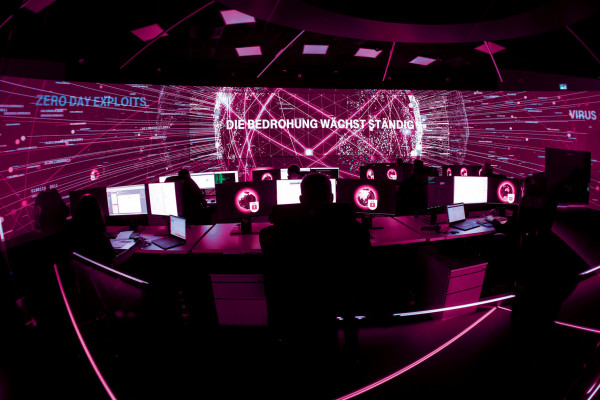 These experiences and the respective, accumulated knowledge also influence Telekom's own innovative and future-oriented software development – incorporating machine learning, artificial intelligence, protection for mobile devices, vulnerability scanning, identity management and an intelligent attack, detection and monitoring system.
The centerpiece of our monitoring efforts is our integrated Cyber Defense & Security Operation Center (SOC) in Bonn, launched in 2017. With more than 240 employees worldwide and 24/7 availability, it is currently the biggest of its kind in Europe. All SOCs in Germany along with those in Hungary, Austria, the Czech Republic, Slovakia, Poland, Spain, Greece, South Africa, the USA, Mexico, Brazil and (new in 2019) Singapore form an international SOC network.
Further information about Deutsche Telekom: Deutsche Telekom Group Profile