Details
OneTimePass calculates a new password for each dial-in or login, which the system only accepts once. With this procedure, with so-called one-time passwords, common attack methods that are often successful with conventional password-based access control mechanisms lead nowhere.
Every user of the system is provided with a so-called token (authentication medium). This token generates the one-time password. It can be operated offline, i.e. without connection to a computer. The user uses the standard login mask of the target application known to him. Here he enters his user ID and the one-time password generated by the token. OneTimePass checks the one-time password and sends the result of the check back to the server or the server application. Communication takes place via the standard RADIUS protocol or SOAP.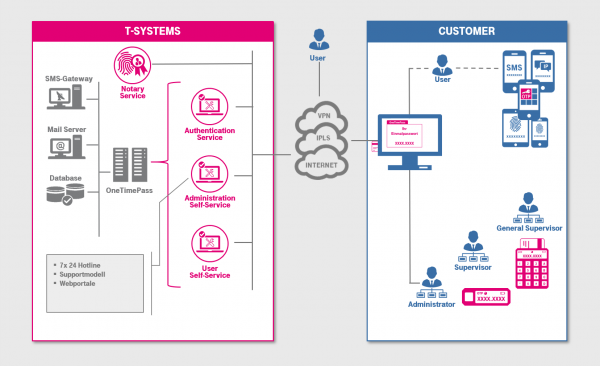 The essentials in brief:
OneTimePass is a managed authentication service from the Telekom Trust Center.

Easy integration into your company IT:

SOAP

RADIUS

further interfaces in preparation

Integrated management portal:

extensive statistics options

Policy management

Easy remote synchronization of tokens:

User Self Service
Admin Service

High availability through cluster operation in geo-redundant dual core data centers
OneTimePass token

Smart Token

Generation of one-time passwords on your smartphone or tablet. Can also be used in conjunction with your smartwatch.

(currently available for: Apple iOS and Google Android)

Hardware Token

OneTimePass Token III (key fob) generates one-time passwords at the push of a button.

TCOS SmartCard Token

If you use a TCOS SmartCard, you can use it to calculate the one-time password.



Soft Token

Install our soft token on your PC. You can generate one-time passwords and transfer them to the application's login mask (only in combination with TCOS SmartCard and card reader).

SMS-Token

With the OneTimePass SMS token, we simply send you your one-time passwords via SMS. Mobile network provider-independent and almost worldwide.